Handcrafted "No. 1 Husband, My 1 and Only" Cuff links
Excellent Valentine's Day, Christmas, anniversary or birthday gift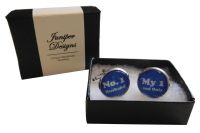 A pair of romantic silver plated cufflinks carrying the mantra "No. 1 Husband, My 1 and Only"
Great as a unique gift or a treat for your husband or fiance
Presented in a black gift box measuring approximately 55 x 40 x 20 mm
Each pair of cufflinks is individually handcrafted in the UK. All items are dispatched within 3 working days
Presented in a black gift box measuring approximately 55 x 40 x 20 mm
A pair of romantic silver plated cufflinks carrying the mantra "No. 1 Husband, My 1 and Only".
Great as a unique gift or a treat for your husband or fiance.
Silver plated.
Each pair of cufflinks is individually handcrafted in the UK. All items are dispatched within 3 working days.
Presented in a black gift box measuring approximately 55 x 40 x 20 mm.
Cuff link face diameter:17mm Length:20mm. Ideal for single and double cuff shirts.
Hand made by Smile Gifts UK
Price: £12.45
Status: New and Instock.
Buy It Now
This item will be dispatched within 2 working days.