Groom's Wedding Survival Kit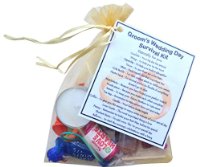 Perfect small gift to give to the Groom for his wedding day
Laminated label highlights the significance of each item
Presented in a gorgeous organza bag (approx 13by18cm).
Great keepsake and guaranteed to make the groom smile.
Bag contains ONE of each item. See description below for more details.
Surprise your friend/loved one with a unique novelty gift to prepare them for their wedding day. A perfect keepsake! All items are placed in a gorgeous organza bag and finished with a laminated label highlighting the significance of each item. Items may differ slightly from those shown in the picture.



Label reads as follows...


Especially for you

Confetti - Your big day has arrived

String - To help you tie the knot

Paperclip - To help you hold it altogether

Tissue - In case there are a few tears

Mint - Fresh breath for that important kiss

Cola Bottle - For that needed drink to settle you nerves

Elastic band - To remind you to be flexible if everything doesn't go to plan

Matchsticks - Because you have found your perfect 'match'

Puzzle piece - Because you make each other complete

Sweets - To keep your future Mother-In-Law sweet

Tea bag - Remember to take some time out and relax.

Candle - Your future looks bright

Coffee - To give you the energy to enjoy every minute of your special day

Love Hearts - The most important thing is love

Penny - Remember to bribe your Best Man before his speech

Sherbet Sticks-To add some 'fizz' to your special day

Balloon... to start the evening's celebrations with a bang


Hand made by Smile Gifts UK
Price: £6.95
Status: New and Instock.
IMPORTANT NOTICE
We will be closed from 18th September 2019 until 27th September 2019.
All orders placed during these dates will probably not be shipped until Monday 30th September. Thank you for visiting SMILE GIFTS UK
Buy It Now
This item will be dispatched within 2 working days.
Not Ready To Purchase?
Send this product to your email address so you can find it quickly and easily later on.