Hen Party Dare Bingo Game including 24 Bingo Cards
Get your night going with Hen Party Games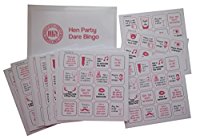 Bingo game involving dares and challenges. Great game to play throughout the Hen Party. Provide great entertainment and laughs.
Contains 24 Bingo cards 10cm x 10cm (roughly the size of a CD) and a novelty "Certificate of Shamelessness" for the winner.
Many other Hen Party Games, including Hen Party What Am I?, Hen Night Charades, Hen Party Taboo (Don't Say It) also available. Hen Hen Night Games, Hen Party Bingo, Hen Night Bingo
See product description for further details on how to play and what is included.

What is 'Hen Party Dare Bingo'?

A simple, cheap, fun game to play at a Hen Party. Good fun for all members of the party.

If you are planning a hen night or weekend it is a great idea to have some little games on hand to keep the party going. Playing games like this are a great icebreaker to get people talking.

This game involves the party guests completing several dares and challenges to win.

e.g. Get a guy to buy you a drink.

The guests can either have a card each or work in teams. You can also choose whether they aim to complete a row on their card, or challenge them to complete all 16 dares to get a "Full House".

What is included?
1. 24 Bingo cards. Each containing a mixture of 16 dares and challenges.
2. A novelty "Certificate of Shamelessness" to be awarded to the winner.
3. A clear plastic wallet to keep the cards in.

The game can then be given to the bride as a keepsake of her Hen Night.

How to play?

The game can be played as follows, however you can adapt the rules to suit your party:
1. Give each guest a bingo card and pen
2. The first guest to complete a row of dares, wins!


Other Hen Party Games from Smile Gifts UK include:
- Hen Party Charades (ASIN: 6041510076)

- Hen Party Taboo (ASIN: 6041503959)

- Hen Party What Am I? (ASIN: 6041510750)


Hand made by Smile Gifts UK
Price: £5.00
Status: New and Instock.
Buy It Now
This item will be dispatched within 2 working days.