New Job Survival Kit Gift
The perfect way to say Congratulations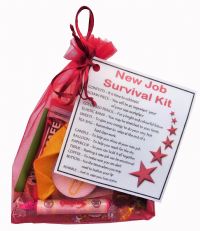 Novelty gift to say Good Luck in your New Job
Laminated label highlights the significance of each item included.
Presented in a gorgeous organza bag (approx 13 by 18cm)
Great keepsake and guaranteed to make the recipient smile.
Bag contains ONE of each item listed on label.
Surprise your friend/loved with a unique novelty gift to congratulate them on their new job. A perfect keepsake! All items are placed in a gorgeous organza bag and finished with a laminated label highlighting the significance of each item. Items may differ slightly from those shown in the picture. Label reads as follows...
BALLOON - It is time to celebrate!
JIGSAW PIECE - You will be an important 'piece' of your new workplace
COLOURED PENCIL - For a bright and colourful future.
ELASTIC BAND - You may be stretched to your limits.
SWEETS - To give you energy to do your very best
TEA BAG - Remember to relax at the end of a hard days work
CANDLE - To help you shine at your new job
STAR - You will be a star employee
PAPERCLIP - So you can hold it all together
TISSUE - Starting a new job can be emotional
COFFEE - To make sure you are alert
BUTTON - For the times when you may need to button your lip
MARBLE - Just in case you lose some
"Arrived in two days and very well packaged. Very cute. Thank you."
Kelli (Via Amazon)
"great item"
Wheels (Via Amazon)
"Lovely gift for my husband on getting a new job, he loved it!"
Kate Warlow (Via Amazon)
"Great"
Sharon (Via Amazon)
"I bought this for my Granddaughter as she started her new job and was a bit stressed about it I thought it would make her feel better which it did she likes it"
Philnor (Via Amazon)
"This is an excellent idea for someone starting a new job, rather than the usual same old congratulation cards. This went down very well with my partner. Nice to offer something different and is quite thoughtful. Loved it."
Natalie (Via Amazon)
"My colleagues loved this gift."
Mrs V M A Anthony (Via Amazon)
"these are so good I really like them and have had a few before something really different"
Richard (Via Amazon)
Hand made by Smile Gifts UK
Price: £7.45
Status: New and Instock.
Buy It Now
This item will be dispatched within 2 working days.