Office Worker Survival Kit Gift
New job, Secret santa office gift for colleague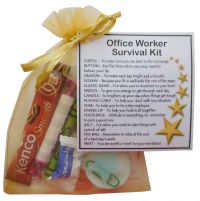 Novelty gift for an office worker. Suitable for new job, promotion, secret santa, birthday gift, christmas gift, thank you gift
Laminated label highlights the significance of each item included. (See production description for more details)
Presented in a gorgeous organza bag (approx 13 by 18cm)
Great keepsake and guaranteed to make the recipient smile.
Bag contains ONE of each item listed on label.
Surprise your friend/loved with a unique novelty gift to. A perfect keepsake! All items are placed in a gorgeous organza bag and finished with a laminated label highlighting the significance of each item. Items may differ slightly from those shown in the picture.
Label reads as follows...
COFFEE - To make sure you are alert in the mornings.
BUTTON - For the times when you may need to button your lip.
CRAYON - To make each day bright and colourful.
JIGSAW - Because you fit in well with the rest of the team.
ELASTIC BAND - For when you're stretched to your limit.
SWEETS - To give you energy to get through each day.
CANDLE- To brighten up your day when things get tough.
PLAYING CARD - To help you 'deal' with any situation
STAR- To help you to be a star employee.
PAPERCLIP - To help you hold it all together.
TOOTHPICK - Attitude is everything, so remember to pick a good one
SALT - For when you need to take things with a pinch of salt.
TEA BAG - Remember to relax at the end of a hard day's work.
MINT - You are worth a 'mint' to your workplace.
Hand made by Smile Gifts UK
Price: £7.45
Status: New and Instock.
Buy It Now
This item will be dispatched within 2 working days.