Accountant's Survival Kit
Great gift for an accountant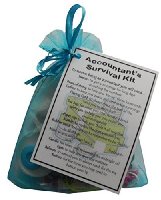 Perfect gift to give to a accountant to thank them for what they have done for you or for your friend or loved one. A great alternative to a card.
Laminated label highlights the significance of each item.Bag contains ONE of each item listed. See picture for details.
Presented in a gorgeous organza bag(approx 13 by18cm)
Thoughtful keepsake and guaranteed to make your doctor smile.
Similar kits avavilable for other careers.
Surprise a doctor with a unique novelty gift to help the 'survive' being an accountant. All items are placed in a gorgeous organza bag and finished with a laminated label highlighting the significance of each item. Items may differ slightly from those shown in the picture.



To survive being an accountant you will need...  Sweets : to give you energy for long days crunching the numbers Piece of string: to help you "tie-up" those loose ends. Coffee: to keep you awake and alert in the mornings Playing Card: to always make the best of the hand you've been dealt Tea bag: for when you need to take a break Safety pin: to help you 'pin-point' any problems quickly Paper clip: to help you "hold it all together Marble: to replace the ones you will lose Rubber band: to help you to remember to be 'flexible' in all things. Mint: so you will always have a fresh outlook . Candle: for when you're burning the midnight oil Eyes: to help you spot any mistakes Balloon: to remind you to always reach for the sky Button: for the times you may need to button your lip Cola bottle: have a drink on me and the end of a long day.


Hand made by Smile Gifts UK
Price: £6.95
Status: New and Instock.
Buy It Now
This item will be dispatched within 2 working days.
Not Ready To Purchase?
Send this product to your email address so you can find it quickly and easily later on.