Advice for the Bride Cards - 24 cards
Hen Party Favours, Hen Party Games, Hen Night Games, Hen Party Bingo, Bridal Shower activity, Bride advice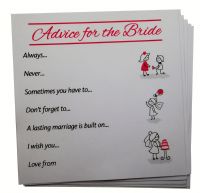 Contains 24 cards 10cm x 10cm printed on Bright White 160 card
Advice for the bride cards. Great to fill in and give to Bride as a memento. Great to be included in a Hen Night Scrap book for the bride along with photographs and mementos.

Contains 24 cards 10cm x 10cm printed on Bright White 160 card.

Many other Hen Party Games, including Hen Party What Am I?, Hen Night Charades, Hen Party Taboo (Don't Say It) also available. Advice for the Bride Cards - 24 cards - Hen Party Favours, Hen Party Games, Hen Night Games, Hen Party Bingo, Bridal Shower activity, Bride advice

Can be filled in by all Hen night guests or on the morning of the wedding by members of the wedding party - make the answers as serious or funny, tame or naughty as you like! Suitable for all ages!
Hand made by Smile Gifts UK
Price: £4.50
Status: New and Instock.
IMPORTANT NOTICE
We will be closed from 18th September 2019 until 27th September 2019.
All orders placed during these dates will probably not be shipped until Monday 30th September. Thank you for visiting SMILE GIFTS UK
Buy It Now
This item will be dispatched within 2 working days.
Not Ready To Purchase?
Send this product to your email address so you can find it quickly and easily later on.
You May Also Like: