SMILE GIFTS UK Novelty Hangover Survival Kit Gift
Party favour, birthday hangover gift, beer gift, drinking gift, stocking filler, secret santa, novelty hangover gift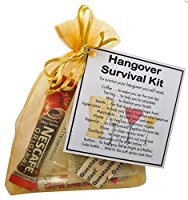 Novelty Hangover Survival kit - great joke item for any occasion. Great for a stocking filler or birthday gift.
The attached laminated label explains the significance of each everyday item included in the kit.
Presented in a golden yellow organza bag (approx size of bag 13cm by 18cm)
Great keepsake gift and likely to raise a smile.
Bag contains ONE of each everyday item listed on label. Many other Survival kits available for all occasions.
Surprise your friend/loved with a unique novelty gift to give them a giggle. A perfect keepsake! All items are placed in a organza bag and finished with a laminated label highlighting the significance of each item. Items may differ slightly from those shown in the picture.

The label reads as follows...
Coffee ... to wake you up the next day
Tea bag ... to help you to rehydrate
Mint ... to freshen your breath
Sweets ... for that much needed sugar burst
Jigsaw piece ... to help you 'piece' together what happened
Matchsticks ... to keep your eyes open
Plaster ... to heal any mysterious injuries
Paperclip ... to hold yourself together the next day
Tissue... to clean up any mess!
Toothpick... to help you pick out your best memories of the night before
Button... to help you feel as bright as a button
Cola bottle ... stick to the soft drinks next time!


Hand made by Smile Gifts UK
Price: £6.95
Status: New and Instock.
IMPORTANT NOTICE
We will be closed from 18th September 2019 until 27th September 2019.
All orders placed during these dates will probably not be shipped until Monday 30th September. Thank you for visiting SMILE GIFTS UK
Buy It Now
This item will be dispatched within 2 working days.
Not Ready To Purchase?
Send this product to your email address so you can find it quickly and easily later on.
You May Also Like: