Sorry You're Leaving Kit Gift
Great novelty survival gift for a colleague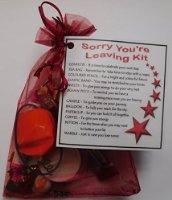 Novelty gift to say Goodbye and Good Luck
Laminated label highlights the significance of each item included.
Presented in a gorgeous organza bag (approx 13 by 18cm)
Great keepsake and guaranteed to make the recipient smile.
Bag contains ONE of each item listed on label.
Surprise your colleague with a unique novelty gift to let them know you are sorry they are leaving. A perfect keepsake! All items are placed in a gorgeous organza bag and finished with a laminated label highlighting the significance of each item. Items may differ slightly from those shown in the picture. Label reads as follows...
CONFETTI - It is time to celebrate your next step
TEA BAG - Remember to take time to relax with a cuppa
COLOURED PENCIL - For a bright and colourful future.
ELASTIC BAND - You may be stretched to your limits.
SWEETS - To give you energy to do your very best
JIGSAW PIECE - To remind you we have a missing piece now you are leaving
CANDLE - To guide you on your journey.
BALLOON - To help you reach for the sky.
PAPERCLIP - So you can hold it all together.
COFFEE - To give you energy
BUTTON - For the times when you may need to button your lip
MARBLE - Just in case you lose some. PENNY - To bring you good luck


Hand made by Smile Gifts UK
Price: £6.95
Status: New and Instock.
Christmas Order Dates
Please place all UK orders by 17th December for Christmas delivery.
For orders outside the UK, please order by 7th December.
We will still post orders after these dates, but they may not arrive in time Christmas.
.
Buy It Now
This item will be dispatched within 2 working days.
Not Ready To Purchase?
Send this product to your email address so you can find it quickly and easily later on.