Usher Survival Kit Gift
A great sentimental fun gift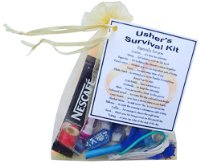 Small novelty gift for a Usher - great sentimental novelty keepsake
Laminated label highlights the significance of each item included. 1 of each item on the label included.(Items may vary slightly from those pictured)
Presented in a gorgeous organza bag (Approx 13cm by 18cm)
Great keepsake and guaranteed to make the recipient smile.
Kits for Best Man, Mother of Bride/Groom, Bridesmaid, Maid of Honour, Bride and Groom also available.
Surprise your Usher with a unique novelty gift to show them how much you mean to them and thank them for being there on your special day. A perfect keepsake! All items are placed in a gorgeous organza bag and finished with a laminated label highlighting the significance of each item. Items may differ slightly from those shown in the picture.



Especially for you

Confetti ... it's time to celebrate

String ... for helping us to tie the knot

Paperclip ... for holding the Groom's nerves together

Puzzle piece ... because you are an important part of today

Tissue ... to wipe away tears of joy

Elastic band ...to remind you to be flexible if everything doesn't go to plan

Cola Bottle... have a drink on us

Umbrella ...to keep the rain away

Mint.... You are worth a 'mint' to the groom

Coloured pencil ... to make the day colourful and bright

Love Hearts ... you have a special place in our hearts

Sherbet Sticks... to add some 'fizz' to our special day

Balloon ... to start the evening's celebrations with a bang

Coffee ... for energy to dance the night away

Rock ... thank you for being a rock on this special day

Teabag ... so you can relax at the end of the day


Hand made by Smile Gifts UK
Price: £6.95
Status: New and Instock.
Christmas Order Dates
Please place all UK orders by 17th December for Christmas delivery.
For orders outside the UK, please order by 7th December.
We will still post orders after these dates, but they may not arrive in time Christmas.
.
Buy It Now
This item will be dispatched within 2 working days.
Not Ready To Purchase?
Send this product to your email address so you can find it quickly and easily later on.