21st Birthday Survival Kit
An excellent alternative to a card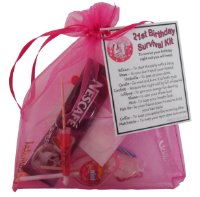 21st Birthday Novelty Survival Kit
Presented in a gorgeous organza bag (approx 13 by 18cm)
Laminated label highlights the significance of each item
Great keepsake and guaranteed to make the recipient smile.
Bag contains one of each item on label (see image)
Surprise your friend/loved one with this unique and unusual novelty gift to prepare the 21st Birthday girl for a fantastic night of celebration and fun. A perfect keepsake! All items are placed in a gorgeous organza bag and finished with a laminated label highlighting the significance of each item.
"I was very happy with this gift for my daughter she thought it was really funny"
Lorraine Fleming (Via Amazon)
"Bought this as a gift for my older sister, she loved it! Such an adorable, simple gift! She used it and survived her 21st!"
Beth Evans (Via Amazon)
"A good filler for my daughters 21st birthday"
Mandy Abdulla (Via Amazon)
"Good little extra for a special birthday"
Joanna Mitchell (Via Amazon)
"Good friends were pleased with these and found them quite quirky"
Samantha (Via Amazon)
Hand made by Smile Gifts UK
Price: £6.95
Status: New and Instock.
Christmas Order Dates
Please place all UK orders by 18th December for Christmas delivery.
For orders outside the UK, please order by 7th December.
We will still post orders after these dates, but they may not arrive in time Christmas.
.
Buy It Now
This item will be dispatched within 2 working days.
Not Ready To Purchase?
Send this product to your email address so you can find it quickly and easily later on.