30th Birthday Survival Kit
An excellent alternative to a card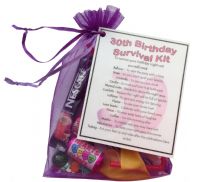 30th Birthday Small Novelty Survival Kit
Presented in a gorgeous purple organza bag (appox 13x18cm)
Laminated label highlights the significance of each item
Great keepsake and guaranteed to make the recipient smile.
Bag contains ONE of each item listed on label.
Surprise your friend / loved one with a unique novelty gift to prepare the 30th Birthday girl for a fantastic night of celebration and fun. A perfect keepsake! All items are placed in a gorgeous organza bag and finished with a laminated label highlighting the significance of each item.
Label reads as follows
Balloon - To start the party with a bang
Straw - So you don-t spoil your lipstick
Umbrella - To jazz up your drink
Candle- Go mad and burn it at both ends
Musical note- Needed to dance the night away.
Confetti - Because the night will be full of sparkle
Lollipop -To give you energy for dancing
Plaster - In case your shoes hurt
Love hearts - Celebrate with your loved ones
Tissue - To wipe away tears of laughter
Coffee - For the morning after
Marble - To replace any you may have lost
Matchsticks - To keep your eyes open tomorrow
Teabag - Put your feet up and relax after the celebrations have ended
"value for money and funny too"
Fairy Girl (Via Amazon)
Hand made by Smile Gifts UK
Price: £6.95
Status: New and Instock.
Christmas Order Dates
Please place all UK orders by 18th December for Christmas delivery.
For orders outside the UK, please order by 7th December.
We will still post orders after these dates, but they may not arrive in time Christmas.
.
Buy It Now
This item will be dispatched within 2 working days.
Not Ready To Purchase?
Send this product to your email address so you can find it quickly and easily later on.