70th Birthday Survival Kit Gift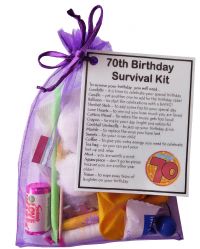 70th Birthday Novelty Survival Kit
Presented in a gorgeous organza bag (approx 13cm by 18cm)
Laminated label highlights the significance of each item
Great keepsake and guaranteed to make the recipient smile
Bag contains one of each item on label.
Surprise your friend/loved one with a unique novelty gift to prepare the recipient for their 70th Birthday. A perfect keepsake! All items are placed in a gorgeous organza bag and finished with a laminated label highlighting the significance of each item. Items may differ slightly from those shown in the picture.



Label read as follows...

To survive your birthday you will need...
Confetti - it is time to celebrate your special birthday
Candle - yet another one to add to the birthday cake!
Balloon - to start the celebrations with a BANG!
Sherbet Stick - to add some fizz to your special day
Love Hearts - to remind you how much you are loved
Cotton Wool - for when the music gets too loud!
Crayon - to make your day bright and colourful
Cocktail Umbrella - to jazz up your birthday drink
Marble - to replace the ones you have lost
Sweets - for your inner child
Coffee - to give you extra energy you need to celebrate
Tea bag - so you can put your feet up and relax
Mint - you are worth a mint
Jigsaw piece - don't go to pieces because you are another year older!
Tissue - to wipe away tears of laughter on your birthday

KIT UPDATED 14/2/17
"mum loved it"
N Hackney (Via Amazon)
"Well worth it as a fun gift"
Loraine (Via Amazon)
Hand made by Smile Gifts UK
Price: £7.45
Status: New and Instock.
Buy It Now
This item will be dispatched within 2 working days.