Funny Buyer Gift Keyring - I'm a Buyer to save time let's just assume I'm never wrong
Excellent stocking filler, secret santa gift, joke keyring, keychain, Buyer keyring, Buyer present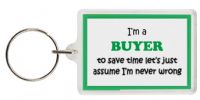 Double sided keyring reads I'm a Buyer to save time let's just assume I'm never wrong on both sides
Keyring body measures approximately 4.3cm x5.8cm (1.3 inches x 2.2 inches). Keyring hoop measures approx 2.5cm (1 inch) diameter
Excellent thank you gift for a Buyer, a friend. Colleague or loved one.
Transparent acrylic body with metal keyring hoop.
Funny Buyer Gift Keyring - I'm a Buyer to save time let's just assume I'm never wrong - Excellent stocking filler, secret santa gift, joke keyring, keychain, Buyer keyring, Buyer present
Double sided keyring reads I'm a Buyer to save time let's just assume I'm never wrong on both sides

Keyring body measures approximately 4.3cm x5.8cm (1.3 inches x 2.2 inches). Keyring hoop measures approx 2.5cm (1 inch) diameter

Excelent thank you gift for a Buyer, a friend. Colleague or loved one.

Transparent acrylic body with metal keyring hoop.
Hand made by Smile Gifts UK
Price: £3.50
Status: New and Instock.
IMPORTANT NOTICE
We will be closed from 18th September 2019 until 27th September 2019.
All orders placed during these dates will probably not be shipped until Monday 30th September. Thank you for visiting SMILE GIFTS UK
Buy It Now
This item will be dispatched within 2 working days.
Not Ready To Purchase?
Send this product to your email address so you can find it quickly and easily later on.