Boyfriend Survival Kit Gift
Great novelty present for Birthday, Christmas, Anniversary or just because ...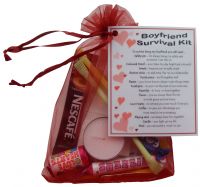 Novelty gift for your boyfriend suitable for any occasion
Laminated label highlights the significance of each item included. ONE of each item on the label included. Bag size can vary slightly.
Presented in a gorgeous organza bag (minimum size 13cm by 18cm)
Great keepsake and guaranteed to make the recipient smile.
A boyfriend kit specifically for Valentine's day is also available.
Surprise your boyfriend with a unique novelty gift to show him how much he means to you. A perfect keepsake!

All items are placed in a gorgeous organza bag and finished with a laminated label highlighting the significance of each item.

Items may differ slightly from those shown in the picture. The label should read as follows...

To survive being my boyfriend you will need...
Safety pin - for always being my safety net, someone I can rely on
Coloured Pencil - you make my day bright and colourful
Sweets - because you're really sweet
Sherbet sticks - to add extra 'fizz' to our relationship
Puzzle piece - we fit together well
Plaster - you know how to always make things better
Toothpick - to pick out the best of our memories
Paperclip - to keep us close together
Tissue - you are always there for me in both good and bad times
Love Hearts - to remind you how much I love you
Coffee - to give you the energy you must need to be so amazing
Playing card - we always have fun together!
Candle - you light up my life
Mint - you are worth a 'mint' to me
"Love this. Boyfriend loved it too."
Amber Williams (Via Amazon)
"I've bought this product as a Christmas gift, so it's not been given yet! However, I had a sneak through the items and it put a smile on my face, so I hope my boyfriend likes it. This is the perfect gift for those people who are tricky to buy for. I'm buying more of these for my family and friends as Christmas presents. I love the idea and good thought has gone into this. Plus, the delivery was quick! Very pleased."
Steffi (Via Amazon)
"Recommend"
Georgie Jones (Via Amazon)
"such an adorable gift got it as part as a present for my boyfriend, and i am very pleased :) and it came the next day after it was dispatched so that was a bonus"
Sarah (Via Amazon)
"Really cute! Would defiantly recommend."
Kelly (Via Amazon)
"Really nice gift and my boyfriend loved it. Would recommend"
Beth (Via Amazon)
"Bought this as one of my boyfriends Christmas presents I was hesitant about him liking it as he's not really into all the cute soppy stuff but he absolutely loves it :) good quality item arrived in very good time. Really happy with this purchase & would definitely recommend this item :)"
Carla Freeman (Via Amazon)
"A really lovely gift! Very happy"
Jamie S. (Via Amazon)
"Loved this little quirky gift. The message on it was really nice and the items were good. Even though my boyfriend was puzzled at first until he read the message. Will certainly use again"
Kelly (Via Amazon)
"Great Product!"
Giovanna Zito (Via Amazon)
"This is the sweetest thing ever! Perfect."
Jamie-lee Dash (Via Amazon)
"Fantastic! Great item, fast delivery and great service.
Great thought gone in to these items."
Samantha Harris (Via Amazon)
"Very nice, I was pleased with it"
R1s2w3 (Via Amazon)
"fun, fun, fun,"
Wendy Ditchfield (Via Amazon)
"Love it. Gave it as a 'ok now it's official' pressie and he loved it. Funny and cute gift"
Therealju (Via Amazon)
Hand made by Smile Gifts UK
Price: £7.45
Status: New and Instock.
Buy It Now
This item will be dispatched within 2 working days.