Dad's Survival Kit Gift
Great present for Birthday, Christmas or just because ...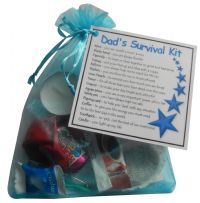 Small novelty gift for your Dad for any occasion
Laminated label highlights the significance of each item included and Happy Father's Day message at the bottom
Presented in a gorgeous blue organza bag (Minimum size 13 by 18 cm)
Great keepsake and guaranteed to make the recipient smile.
Bag contains one of each item listed on label (See image)
Surprise your dad with a unique novelty gift to show them how much they mean to you. A perfect keepsake!

All items are placed in a gorgeous organza bag and finished with a laminated label highlighting the significance of each item. Items may differ slightly from those shown in the picture.

Label reads as follows:

The label reads as follows... Mint - you are 'worth a mint' to me Elastic band - you are always flexible Paperclip - to keep us close together in good and bad times Teabag - put your feet up and relax with a cuppa Balloon - you always help me to reach for the sky Plasters - you are there for me in times of need Love Hearts - to remind you how much you are loved Tissue - for all those tears you have dried over the years Crayon - to make your day bright and colourful Jigsaw piece - you are a very important 'piece' of my life Safety pin - you have always kept me safe Playing card - to help you 'deal' with any situation Coffee - to give you the energy you must need to be the best dad in the world Toothpick - to 'pick' out the best of our memories Candle - you light up my life
"Quick delivery. Does what it says on the tin"
Amanda (Via Amazon)
"Really friendly and helpful service provided,quick delivery.
Product was amazing thoughtful contents and good quality.
Would definitely buy from this person again."
Caroline (Via Amazon)
"nice gift"
Mrs Sl Baxter (Via Amazon)
"Small soppy gift for my Dad. Prompt delivery."
Kaz (Via Amazon)
"My dad really loved this gift for Christmas"
Emily Campbell (Via Amazon)
"A lovely little gift and they have other ranges."
Sarah Pw (Via Amazon)
"ideal"
Catriona M. (Via Amazon)
"Fantastic gift for the dad who is hard to buy things for but loved lots"
Avebury38 (Via Amazon)
Hand made by Smile Gifts UK
Price: £7.45
Status: New and Instock.
Buy It Now
This item will be dispatched within 2 working days.