Carer's Survival Kit
Great gift for a carer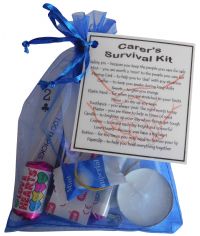 Perfect gift to give to a carer to thank them for what they have done for you or for your friend or loved one. A great alternative to a card.
Laminated label highlights the significance of each item.Bag contains ONE of each item listed. See picture for details.
Presented in a gorgeous organza bag(approx 13 by18cm)
Thoughtful keepsake and guaranteed to make your doctor smile.
Similar kit for a Midwife, Doctor, Nurse and Paramedic also available.
Surprise a carer with a unique novelty gift to help the 'survive' being a carer. All items are placed in a gorgeous organza bag and finished with a laminated label highlighting the significance of each item. Items may differ slightly from those shown in the picture.



Safety pin – because you keep the people you care for safe
Mint – you are worth a 'mint' to the people you care for
Playing Card – to help you to 'deal' with any situation
Coffee – to keep you awake during long shifts
Sweets – to give you energy
Elastic band – for when you are stretched to your limits
Tissue - to dry up any tears
Toothpick – you always 'pick' the right words to say
Plaster - you are there to help in times of need
Candle - to brighten up your day when things get tough
Crayon – to make each day bright and colourful
Love Hearts - because you have a big heart
Button - for the times you may need to button your lip
Paperclip - to help you hold everything together


Hand made by Smile Gifts UK
Price: £7.45
Status: New and Instock.
Buy It Now
This item will be dispatched within 2 working days.