Girlfriend Survival Kit Gift
Great novelty present for Birthday, Christmas, Anniversary or just because ...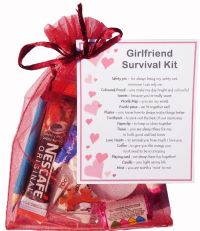 Novelty gift for your girlfriend suitable for any occasion
Laminated label highlights the significance of each item included. ONE of each item on the label included. Bag size can vary slightly.
Presented in a gorgeous organza bag (minimum size 13cm by 18cm)
Great keepsake and guaranteed to make the recipient smile.
A girlfriend kit specifically for Valentine's day is also available.
Surprise your girlfriend with a unique novelty gift to show him how much she means to you. A perfect keepsake!

All items are placed in a gorgeous organza bag and finished with a laminated label highlighting the significance of each item.

Items may differ slightly from those shown in the picture.
Hand made by Smile Gifts UK
Price: £7.45
Status: New and Instock.
Buy It Now
This item will be dispatched within 2 working days.