Hen Night Celebrity Couples Quiz Game including 20 Game Cards
plus answer sheet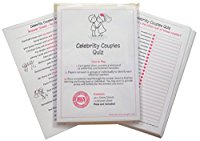 Celebrity Couple quiz game featuring 25 famous fictional and real life couples. Great activity for Hen Party. Suitable for all ages so great for a mixed group.
Contains 20 Game Cards for guests (A5 - Approx 14.5cm x 21cm) and an answer sheet for the quiz host. Packaged in a cellophane sleeve. Packaged in a cellophane sleeve.
Many other Hen Party Games, including Hen Party What Am I?, Hen Party Dare Bingo, How well do you know the Bride?, Hen Night Charades, Hen Party Taboo (Don't Say It) also available.
See product description for further details on how to play and what is included. Hen Night Games, How well do you know the bride?

What is 'Celebrity Couples Quiz'?

A simple, cheap, fun game to play at a Hen Party. Good fun for all members of the party.

If you are planning a hen night or weekend it is a great idea to have some little games on hand to keep the party going. Playing games like this are a great icebreaker to get people talking.

How to Play
1. Each game sheet contains a mixture of 25 celebrities and fictional characters.
2. Players can work in groups or individually to identify each celebrity's partner.
3. Once completed, read through the answer sheet to find the winning and losing team or individual. You may want to provide prizes and forfeits for the winners and losers.

Contents
20 x Game Sheets
1 x Answer sheet
Pens not included



Hand made by Smile Gifts UK
Price: £6.00
Status: New and Instock.
Buy It Now
This item will be dispatched within 2 working days.