Teaching Assistant's Survival Kit
Great way to thank your Teaching Assistant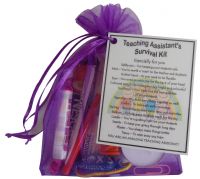 Novelty gift for a teaching assistant - great unique Christmas gift to show a teaching assistant how much they are appreciated.
Laminated label highlights the significance of each item included
Presented in a gorgeous organza bag (approx 13 by 18 cm)
Great keepsake and guaranteed to make the teacher smile.
Bag contains one of each item listed on label
Surprise a teaching assistant with a unique novelty gift to let them know how much they are appreciated. A perfect keepsake! All items are placed in a gorgeous organza bag and finished with a laminated label highlighting the significance of each item. Items may differ slightly from those shown in the picture.

Especially for you
Safety pin - For keeping your students safe
Mint - You're worth a 'mint' to the teacher and students
Rubber band - As you need to be flexible
Eyes - You need an extra pair for the back of your head
Coloured pencil- To make your day bright and colourful
Toothpick - You 'pick' out the best qualities
of your students
Paperclip - You hold everything together so well
Coffee - To help with early mornings
Tea bag - Remember to take some time out and relax.
Balloon - To help your students reach for the sky
Candle - You're a guiding light for your students
Sweets - To keep you going through long days
Plaster - You always make things better
Tissue - To wipe away any tears
YOU ARE AN AMAZING TEACHING ASSISTANT!

"I thought it would be a little fun treat for my daughter how has returned to work for the 1st time in a while. She enjoyed reading the card and looking at the tiny things in the bag. Good novelty gift... to say... well done!"
Jiliani (Via Amazon)
"Great Product - Fantastic Price and Wonderful Service and Delivery. Keep up the Good Work"
Jamespaton (Via Amazon)
"Excellent novelty gift"
Christine Hill (Via Amazon)
"nice and fun gift"
Ir (Via Amazon)
"Perfect gift for teachers"
Mrs Nicola Hollinger (Via Amazon)
"Fun Secret Santa gift"
Mr. S. Hudson (Via Amazon)
Hand made by Smile Gifts UK
Price: £6.95
Status: New and Instock.
Christmas Order Dates
Please place all UK orders by 18th December for Christmas delivery.
For orders outside the UK, please order by 7th December.
We will still post orders after these dates, but they may not arrive in time Christmas.
.
Buy It Now
This item will be dispatched within 2 working days.
Not Ready To Purchase?
Send this product to your email address so you can find it quickly and easily later on.