Zombie Apocalypse Survival Kit Gift
Mini Novelty Gift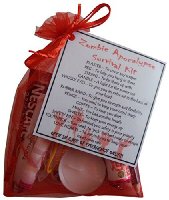 Mini handmade novelty gift for any occcasion - birthday, Christmas or just because!
Laminated label highlights the significance of each item included
Presented in a dark red organza bag (Sizes can vary - approx size of bag 12cm by 18cm)
Great keepsake and guaranteed to make the recipient smile.
Bag contains ONE of each item listed on label
Surprise your friend/loved with a unique novelty gift to give them a giggle. All items are placed in a gorgeous organza bag and finished with a laminated label highlighting the significance of each item. Items may differ slightly from those shown in the picture.



Label reads as follows

PLASTER - To cover any scrapes

PEG - To help you hang in there

STRING - To tie them up with

CANDLE - A light for the power cut

WIGGLY EYES - To give you an extra set in the back of your head

RUBBER BAND- To give you strength and flexibility

PENCIL - You need to keep your mind sharp

COFFEE - To keep you alert

MINT - For bad zombie breath

SWEETS - To keep your energy up

SAFETY PIN - To remind you safety is your priority

TOOTHPICK - You need to 'pick' the best route to escape

LOVE HEARTS - To remind you to keep your loved ones safe



OPEN IN CASE OF EMERGENCY ONLY!!!


Hand made by Smile Gifts UK
Price: £6.00
Status: New and Instock.
Buy It Now
This item will be dispatched within 2 working days.