Handcrafted "No. 1 Boyfriend, My 1 and Only" Cuff links
Excellent Valentine's Day, Christmas, anniversary or birthday gift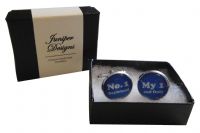 A pair of romantic silver plated cufflinks carrying the mantra "No. 1 Boyfriend, My 1 and Only"
Great as a unique gift or a treat for your boyfriend
Each pair of cufflinks is individually handcrafted in the UK. All items are dispatched within 3 working days
Presented in a black gift box measuring approximately 55 x 40 x 20 mm
Cuff link face diameter:17mm Length:20mm. Ideal for single and double cuff shirts
A pair of romantic silver plated cufflinks carrying the mantra "No. 1 Boyfriend, My 1 and Only".
Great as a unique gift or a treat for your boyfriend.
Silver plated.
Each pair of cufflinks is individually handcrafted in the UK. All items are dispatched within 3 working days.
Presented in a black gift box measuring approximately 55 x 40 x 20 mm.
Cuff link face diameter:17mm Length:20mm. Ideal for single and double cuff shirts.
Hand made by Smile Gifts UK
Price: £11.95
Status: New and Instock.
Christmas Order Dates
Please place all UK orders by 17th December for Christmas delivery.
For orders outside the UK, please order by 7th December.
We will still post orders after these dates, but they may not arrive in time Christmas.
.
Buy It Now
This item will be dispatched within 2 working days.
Not Ready To Purchase?
Send this product to your email address so you can find it quickly and easily later on.